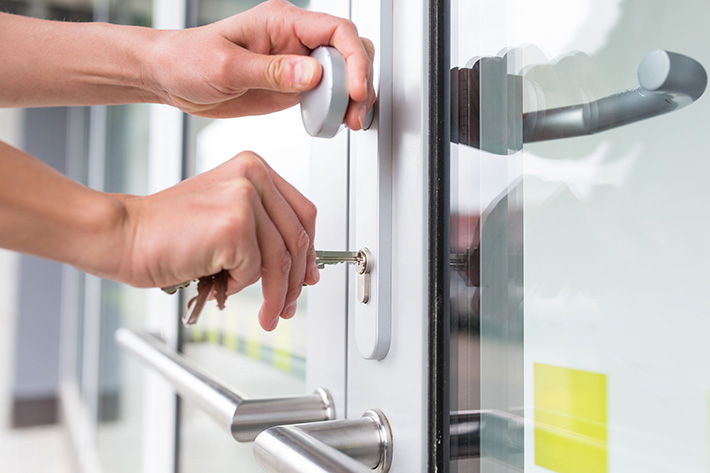 What are the Most Common Types of Commercial Locks?
There are several different types of commercial locks on the market today, each with its own benefits and drawbacks. When choosing which lock to use, you'll want to make sure that it fits your personal needs while also providing the security you require at your place of business. This brief guide will cover some of the most common types of commercial locks to help you decide which one is right for you.
Combination Door Lock
A combination lock is a type of lock that uses a combination of numbers, letters, or symbols to open it. This type of lock is often used on safes, vaults, and other high-security areas. To open a combination lock, you must enter the correct sequence of numbers, letters, or symbols. The downside to this type of lock is that if you forget the combination, you will not be able to open the lock.
Panic Bars
In business buildings, panic bars—also known as crash bars or push bars—are frequently utilized on emergency exit doors. Their design prioritized speedy escapes in case of panic, which is why they lacked a doorknob in favor of an easy-open bar. Hardware for panic doors is often touch-pad- or spring-loaded.
Cylindrical Lever Door Locks
Try a cylindrical lever lock if you want a strong, simple-to-install commercial lock. This kind of door mechanism uses several levers inside the lock, making it high-security. Three to five levers are normally required by commercial standards. It is more secure the more levers there are.
Yale Door Locks
One of the oldest lock manufacturers on the market, Yale is the manufacturer of Yale locksets. This kind of lock is therefore more of a trademark than a specific style. In the Yale collection, you may find anything from deadbolt locks to knob locks and beyond. They execute it flawlessly.
Keycard Door Locks
A keycard door lock is a locking system that uses an access card instead of a traditional key. The card is swiped in order to unlock the door. Keycard locks are often used in commercial settings, such as office buildings or hotels. One downside to keycard locks is that if you lose your card, you may be locked out until someone with a master key can let you in.
Mortise Door Locks
A mortise lock is an additional door lock of commercial grade. It is dependable and excellent for heavily used doors. The cylinder and the body are the two components that make up a mortise lock. A mortise's high resistance to the forceful entrance is made possible by the deadbolt's location inside the body.
Electric Strike Door Locks
An electric strike door lock is a type of locking device that is often used on commercial doors. It consists of an electric strike plate that is mounted on the door frame and a latch that is mounted on the door. When the door is closed, the latch engages with the strike plate and locks the door. The main downside to this type of lock is that it can be defeated by someone with a strong enough force to break through the door.
Conclusion
In conclusion, there are many different types of commercial locks available on the market. The best type of lock for your business will depend on your specific needs and security concerns. Talk to one of our professional locksmiths at Sonic Locksmith or security professional to find out which type of lock is right for you.